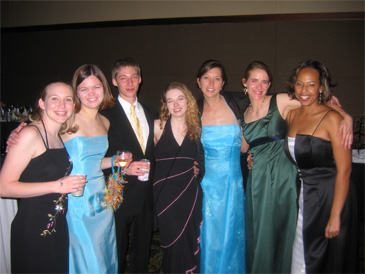 The 2004 Charity Ball raised a record $30,000 benefitting five local charities: Florence Crittenton Hispanic Pilot Program; Quality Alzheimer's Respite Care; Lowcountry Food Bank; Lowcountry AIDS Services; and Crisis Ministries. This event marks the second consecutive year in which the Charity Ball raised a record amount of money.
Throughout December, January, and February, members of the Medical Student Alumni Council (MSAC) gathered goods, services, and gift certificates to auction off during the event.
Among the items collected by the MSAC: two tickets to the 2005 Super Bowl in Jacksonville, Fla., including weekend accommodations; golf packages to Kiawah Island, Myrtle Beach, and Wild Dunes; a weekend in Jackson Hole, Wyo.; an AKC-registered puppy; various works of art, and jewelry. The items were sold at live and silent auctions on the eve of the Charity Ball.
Thanks to these businesses and community members for their generous support: After Hours Formalwear; Black Forest Import Service; The Butterfly Flower Shop; Charleston Convention Center; Coca-Coca Consol-idated; Merritt at James Island; Nancy's Exotic Plants; Snyder's Event Services; Southern Wine and Spirits; Sully's Wholesale; Dr. WH and Virginia S. Barnwell II; George R. and Essie J. Blalock; Dr. and Mrs. Walter Bonner; Veena Chandler; Kathy and Alec Chessman; Dr. and Mrs. William T. Creasman; Dr. Rosalie K. Crouch; Dr. Margaret B. Devore; Dr. Ladson L. Dubose; Dr. and Mrs. Ray Greenberg; David A. Griesemer; Mr. and Mrs. Roger A. F. Habisreutinger; T. Fleetwood Hassell; Shelia and John Hollis and Dr. Windsong Hollis Lanford; Walter M. Hughes Jr.; Dr. Sherron Jackson, Dr. Allen H. Johnson; Clyde and Gertrude Jones; Dr. and Mrs. John T. Lucas; JY and RJ Malcolm Jr.; Dr. Elizabeth B. McCarrell; Dr. Charles D. Riddle Jr.; John and Lynda Selby; Dr. and Mrs. William M. Simpson Jr.; W. Stuart Smith; Dr. Richard and Elizabeth Sosnowski; W. Frank Strait III; Dr. Barbara C. Tilley; Jane K. Upshur; Dr. Valerie T. West; and W.C. Worthington Jr.-Catalyst
, 2004