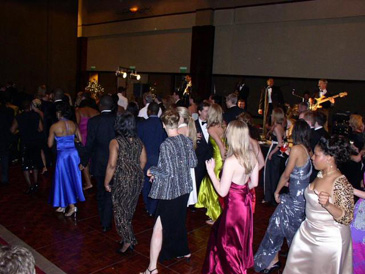 The 2006 Charity Ball raised $25,000 benefiting six local charities: Crisis Ministries, The Ark Summerville and St. George, CARES Clinic, Fight for SIGHT, Communities In Schools (CIS) of the Charleston Area, Incorporated, and Outfitted for Work.
Throughout December, January, and February, members of the College of Medicine Student Council and the Medical Student Alumni Council (MSAC) worked together to plan the successful event, solicited ads, and gathered goods, services, and gift certificates to auction off during the event.
Among the items collected: Artwork by Lynn Currin and Donna; Carol McGill Photographs and Prints; Cooper River Bridge Prints; Gaye Sanders Fisher Print; Duck Print; Jim booth Print; Hand made dolls and pottery; Original Oil Paintings; Spoletto Prints; Festival of Houses and Gardens tickets, ATP Gun Shop memberships; Carriage Rides; Charleston Harbor Dinner Cruises and Tours; Fishing Trips; flying Lessons; Golf Packages at Dunes West, RiverTowne Country Club, Stono Ferry, and the Walker Course; a private party at the Cellar Club for 25 guests; ballet and symphony tickets; handmade rugs; Pawley's Island Hammock; Rocking Chairs; Wrought Iron Barstools; getaways at the Charleston Renaissance, Embassy Suites, Francis Marion, Kiawah, Charleston Place, Courtyard by Marriott, Jekyll Island, Lake Lure, Middleton Place, the Andrew Pinckney Inn, Seabrook, and Litchfield; restaurant gift certificates, fine jewelry, lamps, clothing, and much more.
Thanks to these businesses and community members for their generous support: After Hours Formalwear; Bacardi, Black Forest Import Service; The Butterfly Flower Shop; Cadillac; Charleston Convention Center; Coca-Coca Consolidated; The Daniel Island News; Genekeys; Kaplan Medical; Moe's Southwest Grill; MUSC Sports Medicine; MUSC Department of Obstetrics & Gynecology; MUSC Department of Dermatology; MUSC Department of Pediatrics; MUSC AMWA Chapter; MUSC Phi Chi Medical Fraternity; Low Country Volkswagen; Palmetto Orthopaedics of Charleston; Nancy's Exotic Plants; Pearlstine Distributors; Snyder's Event Services; Southern Wine and Spirits;. Storm Eye Institute; Tequila Corazon; Michael Collins Irish Whiskey; Finlandia; West Ashley Toyota
Silver Level ($1000)
MUSC Department of Surgery
MUSC Department of Medicine
West Ashley Toyota
Bronze Level ($500)
Moe's Southwest Grill
Drs. Steven Storick and Mary Ackerman
Dr. Todd Detar
Mullin's Trucking Company
Benefactors ($1 - $499)
Dr. W.H. & Virginia Barnwell; Mary Blanchard, TTEE; Dr. Gene Butler; Dr. & Mrs. William Creasman; Dr. Charles Crews; Anne Edwards, MD, PC; Fletcher Derrick, Jr.; Dr. T Fleetwood & Jane Hassell; Mirian & Thomas Herbert, Jr.; Gertrude Jones; Robert Malcolm; Dr. & Mrs. Eric Meyer; Kelley Smith O'Quinn; Dr. Celeste Patrick; Paul & Rita Peoples, MD; Dr. M Michael & Paula Swindle; Harold Wheeler, MD; Dr. Norman Bell; Gene Burges; Kathy & Alec Chessman; John A. Colwell, MD; Dr. Fred Crawford, Jr.; Dr. Rosalie Crouch; Dr. & Mrs. Charles Hanna; Barry Hainer; Dr. James Herbert; Sherron Jackson, MD; John Lucas, MD; Edward McCollum; E.C O'Bryan Jr, MD; Dr. Steven Ornstein; Ann Patterson; Rober M Sade, MD; Patrick & Susan Wamsley; Brenda & Jerry Fallaw