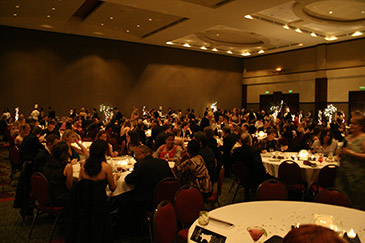 MUSC Charity Ball celebrates 20 years!
by Cindy Abole
Public Relations

Everyone loves a party, especially if it's a benefit established to support the charitable efforts of others within the Tri-county community. On Feb. 17, medical students, alumni, faculty, staff and friends of MUSC gathered for a special event at the Charleston Area Convention Center that made for a high-class, memorable evening celebrating the College of Medicine's 20th annual Charity Ball.

Since 1987, the Charity Ball has been the premiere event of the academic year to help raise money for various local charities. Organized almost entirely by medical students, the Charity Ball combines the creativity and efforts of dozens of dedicated individuals committed to producing a fun, memorable event that supports the college's mission of preparing South Carolina's next generation of physicians and community outreach.

"We are so excited about the 20th anniversary of the Charity Ball and its continued success in uniting faculty, staff, students, and residents together in a celebration that gives back to the local community where we work and live," said Natalee Sheppe French, a fourth-year COM student and a co-chair of the Charity Ball committee.

Co-sponsored by the College of Medicine Student Council and the Medical Student Alumni Council, the Charity Ball is the college's largest single charitable event of the year raising more than $225,000 within the past nine years and $29,000 in 2006. At its centerpiece was the Charity Ball's Silent Auction, which featured a bevy of bargains from artwork, one-of-a-kind items and collectibles to bed-and-breakfast weekends, excursions and unique services.

"The College of Medicine has only one formal social event each year and it is the Charity Ball. The students select local charities where all the funds go to support groups who help our community. This is a chance for the faculty and students to do something together outside of medicine that benefits the people we are privileged to serve medically," said Jerry Reves, M.D., College of Medicine dean.

Proceeds from this year's Charity Ball event will benefit six organizations, including Crisis Ministries, the CARES Clinic, Association for the Blind, ASCEND Foundation, First Baptist Church of North Charleston Medical Clinic, and Trident Area Agency on Aging. All Charity Ball co-chairs, along with Liz Sheridan, MUSC Gives Back Program director, completed a subjective process to review and select this year's charity recipients from a large applicant pool of non-profit community organiza-tions.

One charity, Crisis Ministries, has been a perpetual recipient of Charity Ball funds since its inception. Each year, money raised is used to support the full-time health clinic and other activities in addition to the Wednesday night medical clinics sponsored by College of Medicine students, and other programs.

"Having such a dedicated partner like MUSC be involved and committed to us for 20 years is a true blessing," said Stacey Denaux, Crisis Ministries executive director. "It is clear that medical students are committed to caring for the homeless and find value in our organization and for that we are thankful."

Ever popular, the auction was coordinated by four medical student co-chairs—Josh Black, Kathryn Willoughby, Ashley Procopio-Allen and Eugene Kimn, all members of the Medical Student Alumni Council, which consists of 32 medical students (eight students from each of the four medical school classes). Each fall, students are charged to collect auction contributions.

"MSAC is such a unique group of students," said Black. "Members juggle classes and rotations with numerous hours in the community to solicit donations for the auction. All the work is well worth it once we see how much money is donated to the charities."

In addition to the auction, a party coordinated by the seven co-chairs of the Student Council Charity Ball Committee and its dedicated committee of 13 students, whose job was to ensure that everyone stayed in a festive, charitable mood. This year, the group raised a record $12,700 in program ad sales of which clinical departments committed to more than $10,000.

"It is hard to express in words the awe that I have for the people who have made this happen— our students," said Candace Gillespie, co-director of the Charity Ball. "I'm amazed at their energy, resourcefulness and creativity. Of course, the success is also largely dependent on our community's generosity and the support of our faculty and staff. A big thank you to everyone who has made this year so wonderful. It is such a pleasure to do what I do and to be associated with this event!"

This year's landmark event was heralded by the melodic sounds of the Summerville Community Orchestra, plus the event's featured band, Permanent Vacation, which kept guests dancing to the sounds of beach music and classics throughout the evening.

The Butterfly Flower Shop provided a centerpiece for the entranceway and roses for all of the tables; Nancy's Exotic Plants furnished ficus trees for the ballroom; Charpia's Formal Wear donated a tux for the auction and offered a special discount for attendees; and beverages for the evening were supplied by Pearlstine Distributors, Southern Wine and Spirits, Coca-Cola Consolidated, Sidney Frank Importing Co. Inc, Brown Forman, and Bacardi.

"To make an event successful, it takes a lot of work from everyone," said Peggy Singletary, co-director of the Charity Ball. "The students work hard and I am very fortunate to have the opportunity to work with this special group of young people."
We would like to extend a special thanks to the following businesses and community members for their generous support of the Twentieth Annual Charity Ball held February 17th 2007.
Charpia's Formal Wear, Nancy's Exotic Plants, Pearlstine Distributors, Snyder's Event Services, Southern Wine and Spirits, Coca-Cola Consolidated, Charleston Convention Center, Sidney Frank Importing Co. Inc, Brown Forman, Bacardi, Dr. Raymond Greenberg, Dr. Jerry Reves, Candace Gillespie, Peggy Singletary, Karen Nichols, Artice Smith, Beverly Pinder, The Butterfly Flower Shop, Permanent Vacation, Summerville Community Orchestra, MUSC Print Shop, Dr. Jeffrey Wong
Platinum Sponsors - $2000+
MUSC Department of Neuroscience
MUSC Department of Pathology and Laboratory Medicine
Silver Sponsors - $1000+
MUSC Department of Medicine
MUSC Department of Surgery
MUSC Department of Psychiatry
Bronze Sponsors - $500+
Moe's Southwest Grill
Low Country Mazda and Volkswagen
Benefactors - $1 - $499
MUSC Storm Eye Institute
American Medical Association - Medical Student Section
American Medical Women's Association
MUSC AOA South Carolina Alpha Chapter
Black Forest Import Service
Miller Cadillac
Marilynn Durkee - AgentOwned Realty
MUSC College of Medicine Class of 2010
Jersey Mike's Subs & Salads
MUSC College of Medicine Class of 2009
MUSC College of Medicine Class of 2008
MUSC College of Medicine Class of 2007
MUSC Department of Pediatrics
Guy Vitetta
MUSC Bladder and Pelvic Health Program
Student National Medical Association, Inc.
MUSC Phi Chi Chapter
MUSC Office of Student Programs
MUSC Department of Orthopaedic Surgery and Sports Medicine
MUSC Department of Dermatology
MUSC Department of Radiology