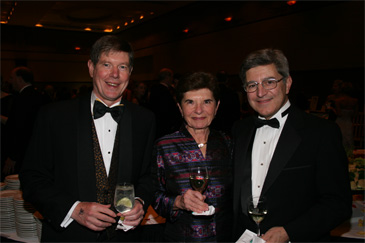 Dear MUSC Family Member,

For twenty years, the Medical University of South Carolina College of Medicine students have successfully organized the MUSC Charity Ball. This year's event will be held on Saturday, February 17th at the North Charleston Convention Center. I am writing to you to encourage you to attend this Black Tie Optional event that will attract more than seven hundred attendees this year.
Music for the evening will be by "Permanent Vacation " and heavy hors d'oeuvres will be served along with an open bar. You and your guest will be able to enjoy all of this with our College of Medicine students, alumni, faculty, and staff for $40 per person for students and their guests, or $55 per person for all other attendees.
This year our medical students have selected six charities that will receive the proceeds from the MUSC Charity Ball and its incredible Silent Auction. For the past few years, greater than $30,000 has been donated to help various organizations. This year's proceeds will benefit Crisis Ministries, The Association for the Blind, ASCEND Foundation, Trident Area Agency on Aging, The C.A.R.E.S. Clinic, and the First Baptist Church of North Charleston Medical Clinic.
Not only do I encourage you to attend this event, I also encourage you to donate an item to the silent auction or sponsor an ad in the charity ball program. Previous items submitted have included: a gift certificate from your favorite Charleston restaurants, a weekend stay at your vacation home, or an item from your family's place of business. Please visit the Charity Ball website at www.musc.edu/charityball. If you cannot attend this event due to scheduling conflicts I encourage you to make a donation to support this most worthy effort by our students.
Since my return home to MUSC, I am continually amazed at the service our students provide to our community. The annual MUSC Charity Ball is certainly the pinnacle of our students' efforts. I look forward to seeing you on Saturday, February 17th.
Sincerely,

Jerry Reves, MD
Dean, College of Medicine
VP for Medical Affairs