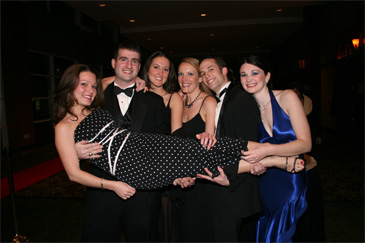 The College of Medicine Student Council Charity Ball Committee is responsible for planning the event while the Medical Student Alumni Council plans the Silent Auction. Without the collaborative help of all members of these two student groups, the Charity Ball would not be possible.

The committee makes all arrangements with the Charleston Convention Center, from planning the set-up of the ballrooms to deciding on the menu.

Invitations and posters are designed to invite faculty, staff, students, and alumni. Music for the evening will be provided by Summerville Community Orchestra and the band "Permanent Vacation.". Signs are hand-stenciled by committee members to welcome guests, thank donors and introduce the charities.

In previous years, the committee has also received donations from the Charleston Convention Center, The Butterfly Flower Shop, Coca-Cola Consolidated, Forsberg's Package Shop, Inc., In Good Taste, Martha's Shop Inc., Med Deli, Nancy's Exotic Plants, Pearlstiens' Distributors, Snyder's Party Rental and Southern Wine and Spirits.

Also, University Transportation provides safe transportation for guests, to and from the event. The MUSC President's Office and the College of Medicine Dean's Office donate money to cover these costs. The committee also works with Public Safety so that officers are present to ensure the safety of guests. The committee also makes arrangements with Charleston Picture Company to take photos of guests during the evening.